German Shepherd Rescue Scotland
Welcome to the website of German Shepherd Rescue Scotland. Whether you have decided to adopt a German Shepherd, re-home your German Shepherd or you would like to become a volunteer, we hope you enjoy browsing our site.
We have included some helpful information and advice, as well as a gallery of beautiful German Shepherds, most of them rescue dogs. If there is something you would like to see included on the site please get in touch, we would love to hear from you.
The website is regularly updated, so please keep checking back.
Prizes needed
Our fun dog show at Vogrie Country park on 5th August 2017 is a great fund raiser for us. We really need prizes for our raffle, and goodies for our tomobola (adult and kids). If you have a prize which you could donate please get intouch.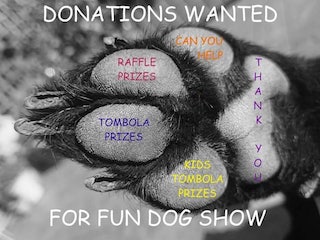 Rodeo success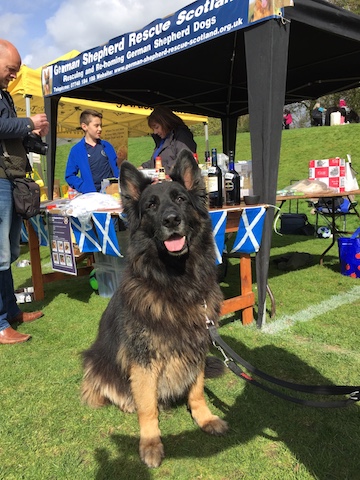 Big thank you to Lorraine, Alistair, Megan and Shannon for holding our rescue stall at the Glasgow vet school Rodeo on Saturday and to Kelvin and Andrew who were out on the ground handing out our leaflets.
And special shout out to Rhan for promoting our fantastic breed. They all raised a fantastic £240 on the day!
Thanks to everyone who said hello to them on the day.
In Memory of Roseanne McGinn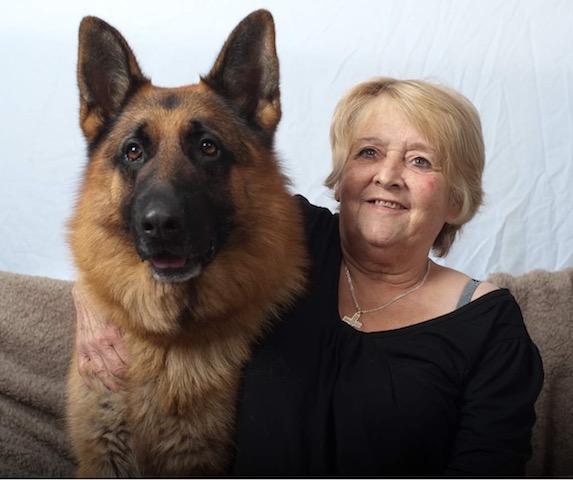 In Memory of Roseanne McGinn (pictured here with Hundark Raffi.)
On Saturday 22nd April at the Strathclyde Champ show Carolyn and Dorothy met with Mandy, Roseanne's daughter to accept the donations from Roseanne's funeral. We are delighted to let you know that including the online donations Roseanne's friends and family have collected £837 for German Shepherd Rescue Scotland in her memory. I am sure she will be delighted with this and it will certainly be put to good use.
We would also once again like to thank Roseanne's family for thinking of us as such a sad time. We are extremely grateful.
**************
Sadly this week we were contacted by the family of the Roseanne McGinn who recently passed away, they wanted to let us know that the family were arganising a collection for us at Roseanne's funeral this Friday (14th April 17).
We cannot thank the family enough for this very kind thought at such a sad time. Roseanne's daughter Mandy has provded us with a few special words about Roseanne that we would like to share with you. Mandy writes.......
Sadly on the 8th April 2017 my mum Roseanne lost her life to cancer. She was an amazing woman who had animal welfare at the forefront of her life.. from a young age she worked with animal rights, protecting those animals in need and continue to work with rescues taking on an older GSD who was in dire need of love and care, Elsa, as we called her, lived out the last of her days with My mum at home where she was kept clean, given quality food, freedom to roam around the field at her leisure but most importantly knowing she was loved. Her most recent rescue was a lovely male GSD who's owner no longer wanted him, she took him, he was terrified of everything, she worked with him giving reassurance and love which enabled him eventually to move into his permanent loving home..but she didn't stop just with German Shepherds, she also rescued 2 horses a few years back, Floyd and Dixie, Dixie unfortunately had been badly abused and despite mums best efforts to keep him alive he lost his life as his legs were buckled, mum did a sponsored walk at a time when she wasn't in the best of health herself and raised several hundreds of pounds to enable Dixie to get an operation on his legs. This gave him a little longer life than he would have otherwise had.
So you see, it was only fitting that she would want her friends and family to donate to the breed she has devoted her life too and she would want to make sure that despite not being in this world anymore, she can still play her part in saving their lives ?? forever in our hearts .. Mandy McAteer (Roseanne's daughter)
Trails bike fundraiser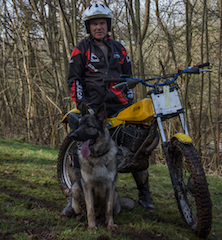 Trials Bike fundraiser at the weekend made us an awesome £550 and it looks like they had a lot of fun raising an amazing amount for our dogs in need.
Great to see our very own rescue dog Diesel on duty supervising and testing the tyre pressures for everyone.
Massive thank you to East Neuk Wobblers Trial Club who ran the event, and a very special mention to Maggie for doing doing all the admin.
GSRS Team really appreciated your efforts.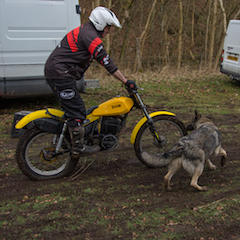 New Embroidered Clothing available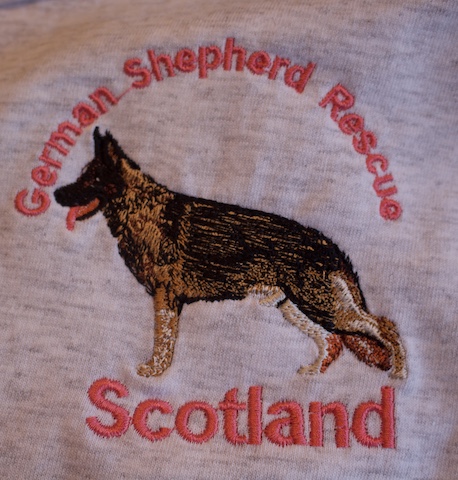 We now have a new range of embroidered clothing available in our shop.
http://www.german-shepherd-rescue-scotland.org.uk/shop/index.php
2018 Calendar Photos & Sponsors wanted
LAST DATE FOR PHOTOS 30TH APRIL 2017
We are being extremely organised this year and are starting to collect images for our 2018 calendars.
We need good quality (not Facebook images) of your GSDs.
To be in with a chance of being selected make sure there isn't too much background in the photo and that the photo isn't in the 2017 calendars. You will be notified by email if your dog makes it into the calendar and they will be on-sale at our fun show in August.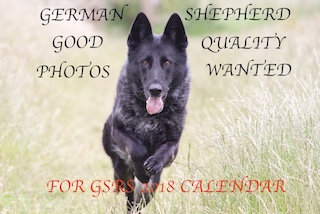 We are creating a slimline calendar - landscape shots will feature in this. And an A4 calendar - Portrait shots are best for this as we can select more images that way.
We are also looking for 12 businesses to sponsor the A4 calendar again. This was extremely popular last year. Each business logo and their details will feature on one month each and all 12 will be displayed on the back of the calendar. Please email your sponsorship interest to below email.
Please send all your best images to email - This email address is being protected from spambots. You need JavaScript enabled to view it.
HELP US FIND SASHA (b) A HOME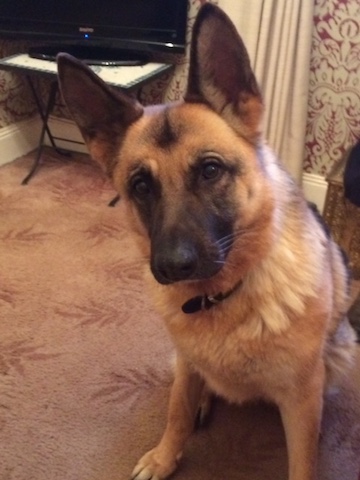 Sasha has been on our website for a little while now, but sadly we received a phone call from her owner recently saying that her health had gone down hill and could we bring Sasha into the kennels.
A space became available and Sasha arrived just over a week ago.
She is really really sad and has no idea what has happened to her. She has spent the last 10 years living a lovely peaceful life with her lady owner. She lived in the countryside and they didn't see many visitors.
Now Sasha is sleeping in a kennel and is surrounded by other dogs and people are coming and going. She wuffs at Eileen because she is worried and will likely wuff in her new home until she settles.
She is a bonny girl and certainly doesn't look 10.
She will need a really quiet home, Sasha seems to be fine with other dogs so maybe able to live with a neutered male (she is not speyed)
Her new home will ideally be rural as this girl we think would crumble in a built up area.
Who all said they wanted an Oldie? Have you got the time to let this girl come out her shell. She is lost at the moment.
If you can give Sasha (b) a home please complete out adoption form and put Sasha (b) after you name
2017 Fun Dog Show - date for your diary
Our annual fun dog show is now booked for Saturday 5th August 2017, at Vogue country park, Midlothian
There will be fun dog classes and breed classes to enter, stalls, doggie demos, have a go agility, face painting, ice cream and lots more.
Its a great day for all the family and their dogs (all breeds very welcome) and a really good way to help support our rescue.
Hope to see you all there. Don't forget to put the date in your diary.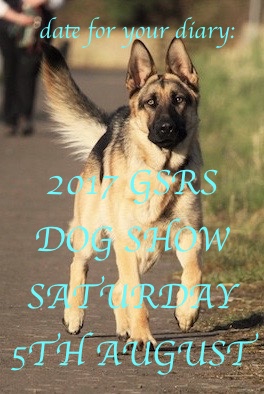 OUR WISHLISTS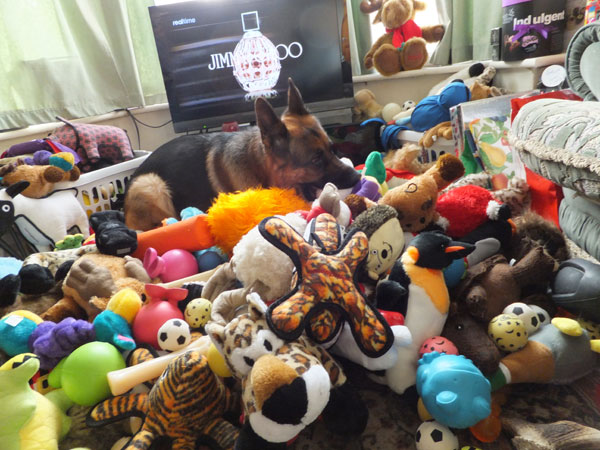 Our wishlists let you donate things for our kennel dogs that we really need help with buying. The items get delivered directly to the kennels.
This year we have two wish lists, our regular one where you can help us by donating food, treats, leads and toys and a new addition of a bottle of Calor gas for our kennel heater to keep the dogs cozy. These items you can find here:
http://www.german-shepherd-rescue-scotland.org.uk/.../product...
And our new Amazon wishlist which is things that we cant get from our pet shop, but are things that would really help at the kennels. From cozy vet bed, water proof jackets, to food storage bins to stop us feeding the local field mice. These items can be found here:
https://www.amazon.co.uk/registry/wishlist/9UB4SQLQ4JSV
Thanks in advance for everyones support. Please help us by sharing this post. All purchases will be sent directly to our kennels.
Diesel Our very own Hero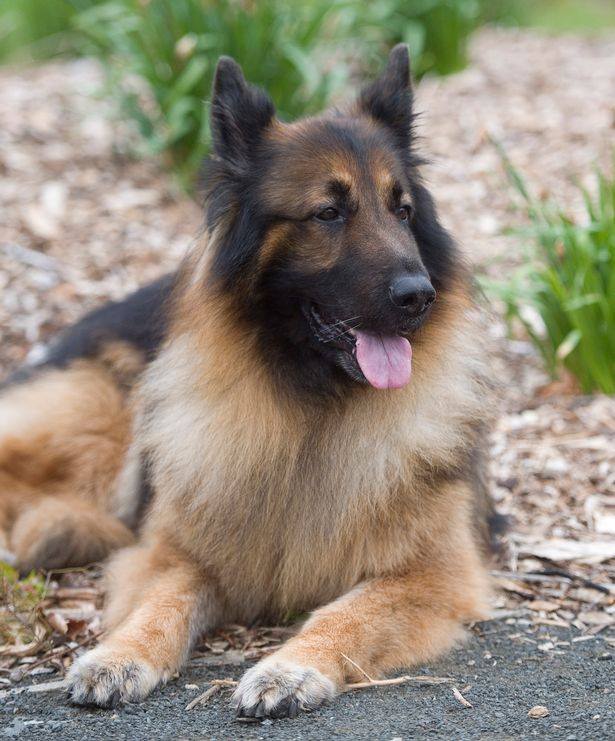 Everyone Meet Diesel - Diesel is one of our success story dogs - And a bit of a celebrity! Awarded with a PDSA Commendation for Animal Devotion. Diesel has even been on STV and appeared in several news papers
From PDSA "In March this year your wrote to us nominating Diesel for an animal award in recognition of how he supported you when you had a bad fall and how he stayed with you, even in the ambulance and on arrival at the hospital. I am also delighted to hear he is a canine blood donor - he sounds like a very special dog.
I am extremely pleased to confirm that we have awarded Diesel a PDSA Commendation for animal devotion. He joins an illustrious list of animals whose remarkable actions have undoubtedly saved or enriched the lives of their companions"
And here is what Diesel has to say
"When I first met my new Mum & Dad I was in kennels having been rescued by the GSDS. My new home is so good. I can do anything and everything. Dad plays with me when he gets in from work and Mum is with me all day, going for walks and shopping in the car. My Mum had a bad accident after having me for two days and I knew I had to make sure she was ok. Mum said I was very brave but she would do the same for me. I have been on lots of lovely holidays in the Highlands, not too sure what that is but it was great. New places to go, lots of hills to climb and lochs to paddle in. My Dad paddled in the loch with me as I was a wee bit scared but Dad gave me a cuddle and said it would be ok. I like water now. I also give blood now to save poorly dogs. I don't mind. I get a goody bag every time I go so its worth it. I have lots of toys and squeeky toys and I'm very happy now. Mum & Dad say they love me every day and I love them back. Thank you GSR for finding my new Mum & Dad."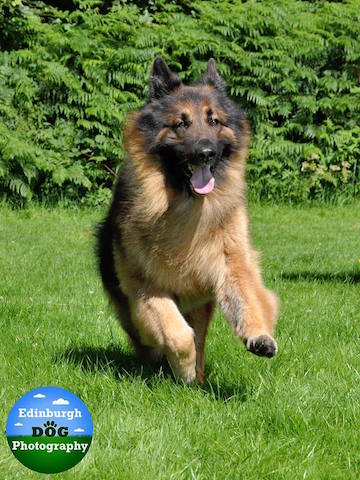 Volunteers & Foster homes needed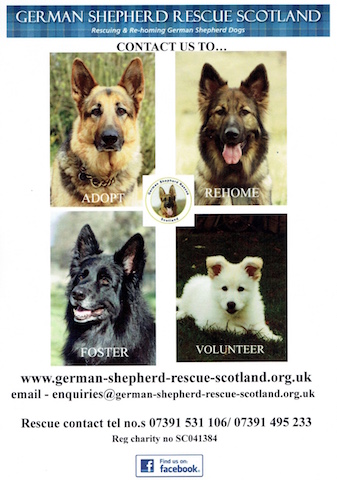 We need new volunteers with GSD experience to help us with our home checks, dog assessments, transporting dogs and fostering. If you think you can help us then please complete an adoption form and after your name add either (Foster) or (Volunteer).
Your kids need to be over 10, your dogs need to be dog friendly, your garden needs to be secure, and we dont home our dogs with cats (due to the stress it adds to a rescue).
Don't rule out an oldie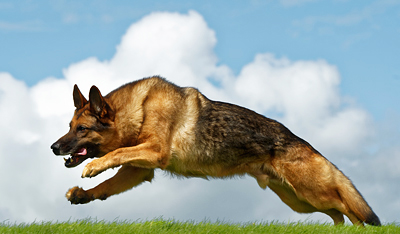 If ever there was an advert for taking on an older dog is this boy.......Meet Buck. Buck has just turned 11 and these are his birthday photos
Buck came into our rescue 4 years ago as a 7 year old. He was extremely over weight (about 55kg) had very long nails as he wasn't getting out of the garden as he was too strong for his owner.
He was assessed by us and found him to be such a friendly boy who could easily live with another dog.
Bucks new owners took him on without even questioning his age. So long as their little girl Skye approved of him! And she did. Buck has not looked back since.
The biggest challenge was to get his weight down and his fitness up. The ultimate challenge - to climb a Munro! And boy did he do just that. Buck is an amazing example of the breed, and we wanted to highlight just how rewarding taking on an older dog can be.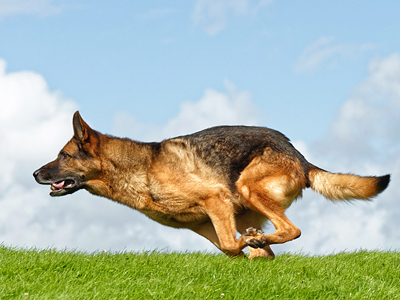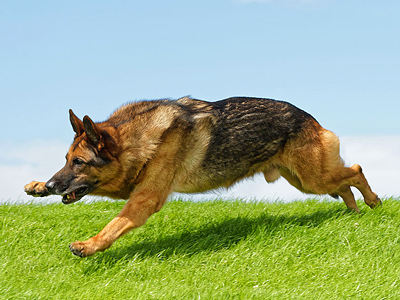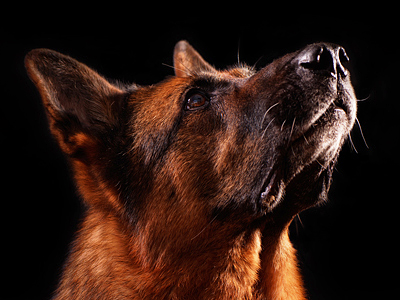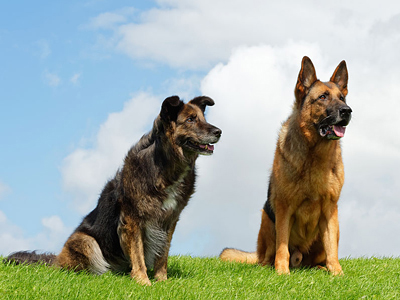 Thank You - In memory
German Shepherd Rescue Scotland recently received a very special donation from GSD owners Lexi & Danny from Edinburgh. They lost their Stunning boy Jack in December 2015 and wanted to do something in his memory by helping GSDs in need. Our thanks go to them at this sad time. It will help us continue our work and look after our kennel dogs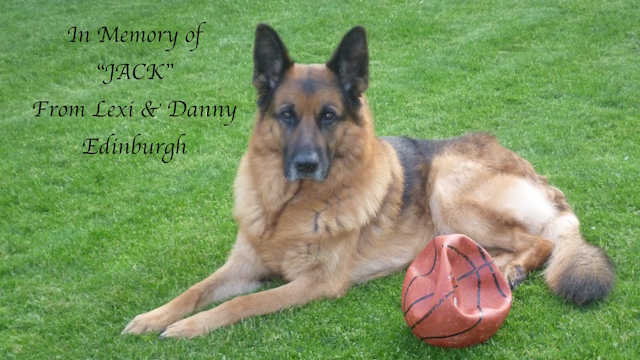 Yahoo email addresses
YAHOO ENQUIRIES - If you have contacted us recently and have a yahoo email address and you have not received a reply within a couple of days it is because we seem to be have compatibility issues with our email and yahoo.
Please call Liz on 07748184188 if you are waiting on a response.
SPONSOR OUR KENNEL DOGS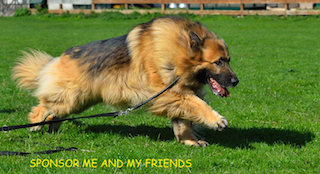 You can now sponsor our kennel dogs for £10 each or give the sponsorship as a gift to a person of your choice using the following link. You will receive a certificate and photos of the dog you choose by email. All the sponsorship money goes towards the kennel fees, feeding and veterinary care for our dogs in kennels who are still looking for their forever homes
http://www.german-shepherd-rescue-scotland.org.uk/sponsor-a-german-shepherd
FUNDING CRISIS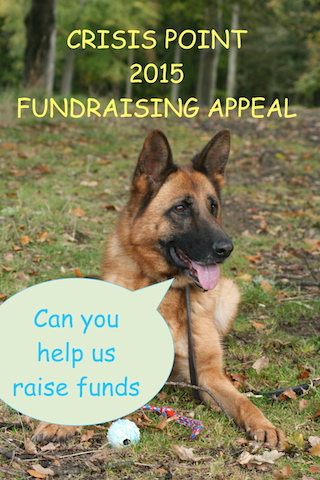 FUNDING CRISIS
German Shepherd Rescue Scotland is having a funding crisis. We are running out of money for the dogs in our care and desperately need your help.
If you can come up with any ways of raising the much needed funds we will be extremely grateful.
We currently have 12 dogs in kennels and most of them have been with us for a very very long time. The kennel fees, food and vet bills mount up for these dogs. We also continue to support long term foster dogs who need medical treatment and the funds are simply drying up.
If you can think of any ways to help us raise money then please go ahead and do it. If you would like to donate any extra pennies you may have the virgin link for donations is below (don't forget to add give aid if you pay tax - that bit doesn't cost you a penny). If you know any businesses that would like to make a charitable donation then please recommend us to them.
We do our best for the dogs in our care, but we can't do it with out money unfortunately.
Thanks for your continued support. GSRS
We are on Facebook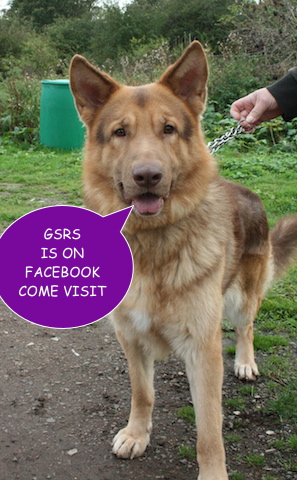 Did you know we have a facebook page for our fundraising?
Come visit us and see whats going on
https://www.facebook.com/GermanShepherdRescueScotlandFundraising
Feed a Rescue Dog - Donate a Bag of Dog Food
A HUGE THANK YOU TO EVERYONE WHO HAS DONATED FOOD FOR YOUR DOGS
You too can help by donating a bag of dog food. German Shepherd Rescue Scotland has teamed up with Ferguson's Pet Supplies (www.fergusonspetsupplies.co.uk) so that our supporters can purchase dog food to be sent directly to our kennels.
Feeding our dogs is one of the biggest costs of running the rescue so every donation of food helps a great deal. We have selected some foods we know our dogs like, all you have to do choose one of the options. It's really easy!
You make your purchase on our website, Ferguson's Pet Supplies receives the order and delivers the food directly to our kennels.
Click here to support our dogs.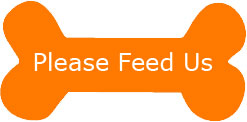 German Shepherd Rescue Scotland has a 'NO KILL' policy but we need your help to keep these dogs safe.
If you visit our site and like the work we do please consider donating. If every visitor donated even just £1 it would help us continue our work.
Don't forget to Gift Aid your donation if you are a UK tax payer. A big thank you to everyone who has donated.
| | |
| --- | --- |
| Supported by Burns | Supported by Pets at Home |