Jake & Sharkey - Gorgeous Golden Oldies
Being a volunteer for the GSD Rescue Scotland is a very rewarding experience but the most rewarding experience I have had so far was when I fostered two elderly shepherds. I vividly remember the email that came from Liz with the plea for help to re-home two 12 year old brothers, Jake and Sharkey. Seeing their faces and knowing they were elderly, I knew there was no way these boys were going to go into kennels.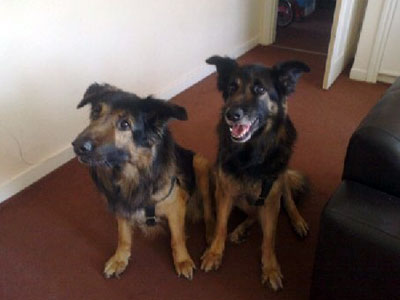 I immediately contacted Liz and within the week the boys were at our home. They were two huge shepherds but were so sweet natured and just wanted to be in your company. From the beginning these boys had a lot to adjust to, my two dogs, Ula and Jasper, three cats, three horses, ducks and rabbits, and my son, Jack who was four at the time, all new to two dogs that lived in a flat in Glasgow!! Well, there was nothing to worry about, being of a more mature age, these two fit in like they had always been here.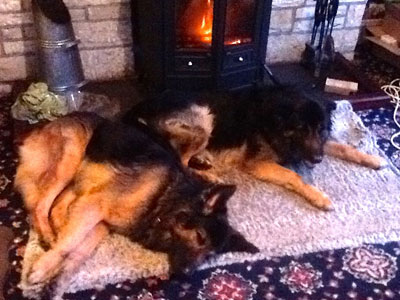 Jake and Sharkey have been a delight to have in our home, the summer was spent lazing in the yard and leisurely walks in the fields. Heading into autumn they became the new rug in front of the fire. They have become a big part of our lives, you couldn't wish for better dogs.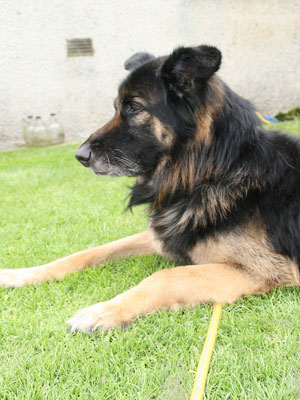 Often when Liz and I speak, we speak of our love for the older Shepherd and how much we get from them in love and appreciation. So, I am writing this article to promote the older Shepherds who are often overlooked because of their age. For one thing, the older boys and girls are past the puppy stage, chewing, biting and toilet training. They are often a lot calmer and settled, and much prefer a quieter way of life but can have just as much fun and energy (when needed) as a much younger dog.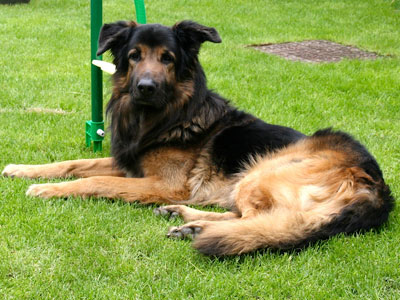 So if you or someone you know is thinking of adopting a German Shepherd from the rescue, please don't pass by the older dogs, give them a closer look as they may be more suited to you.