Latest News
First of all we would like to say a big thank you to all of our volunteers for their continued support and take this opportunity to welcome all of our new volunteers.
Thank You Nithsdale Vets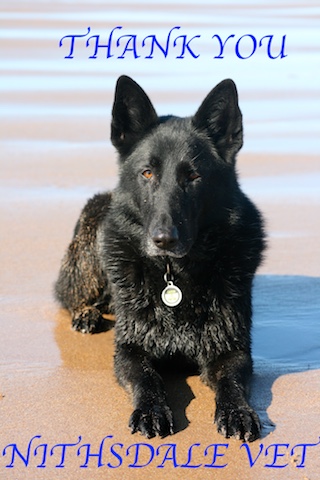 Thank You to Nithsdale Veterinary surgery, in Thornhill, Dumfries for a fantastic donation of £120 to us. Nithsdale vets created their own calendars for 2017 and all the money raised was divided and donated to charity. We were lucky enough to be one of them and the money will be put to great use. Thanks to everyone involved in creating the calendars and all the customers who bought one your donation is very much appreciated
GSRS Team and the dogs x
December wish list arrives
We cant thank our wishlist supporters enough this year. Our December delivery arrived at the kennels today and we are truly over whelmed by your generosity.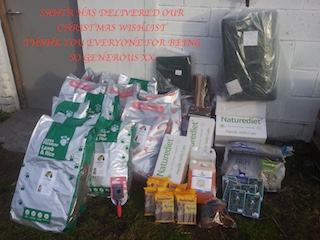 Wishlist Goodies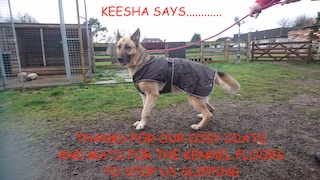 WISHLIST THANK YOU
To everyone who has contributed to our Amazon wish list this year Keesha would like to model the goods and say a big thank you.
We have two wish lists (for food and treats and gas for our heater)
http://www.german-shepherd-rescue-scotland.org.uk/.../product...
For other bits n bobs (vet bed, dog coats,ect)
https://www.amazon.co.uk/.../9UB4SQL.../ref=nav_wishlist_lists_1
Thank you for your generosity
Several Adopters and Volunteers have refused to let us pay for things over the past few months and told us to "put it towards the dogs" so here is an extra boost to our food supply from all you generous folks - you know who you are!
Thanks for your support The rehoming Team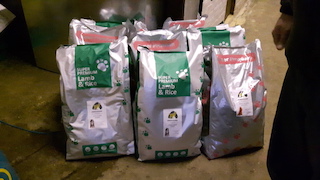 Thank You Mrs Quinn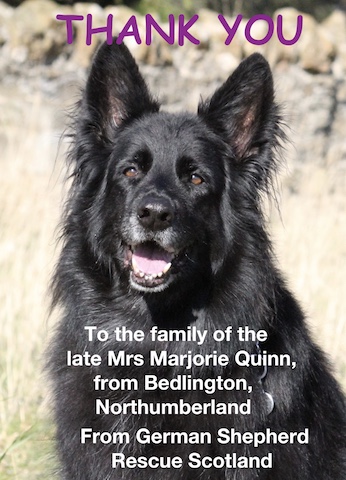 GSRS would like to say a massive Thank you to the family of The Late Mrs Marjorie Quinn, from Bedlington, Northumberland, who have recently sent us a donation from the Estate of Mrs Quinn.
This is really very much appreciated from everyone at the rescue and will go a long way towards keeping our dogs warm and fed and vet checked, over the winter months.
Tracking Rally Fundraiser 2016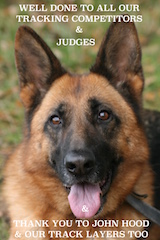 Over for another year - Another successful fundraising tracking event which was held over Saturday and Sunday this weekend. And the weather couldn't have been kinder to us.
We just want to express our thanks to John Hood for putting the event together (with a little help from his glamorous assistant - who wants to remain nameless lol)
Massive Thank You to Sandra & Shirley for giving up their days to judge for us, we certainly couldn't have done it with out you. And of course your track layers, Nick, Sandra and John. Great effort guys and girls.
Big thank you also goes out to all our entrants and their dogs. We hope you had a great time and will come back again next year. Congratulations to all the rosette winners. Please post photos of your dogs with their rosettes, we would love to see them on here.
2016 FUN DOG SHOW RESULT
Our 2016 fun dog show is over for another year and we made a fantastic £6047. This will help us keep our kennel dogs safe and happy until they find their forever homes.
We have many people to thank for making yesterday such a success (including the weather man!).......
We could not have done the show without our amazing and dedicated Volunteers and helpers, who set up the show, stood at stalls, helped people enter classes, ran our activity areas, did demos, and helped round the show.
Thanks to all of our judges and their helpers who probably had the toughest jobs yesterday picking the winners, not an easy task!
Thanks to Cheryl at Edinburgh Dog Photography for giving up her day to come along and take special portraits of peoples dogs to raise money for us. Looking forward to seeing them!
Thanks to our class sponsors, everyone who donated prizes to our raffle and tombolas, to all the home bakers out there who brought goodies, to Salt n Peppa catering for keeping everyone well fed and Billy with his Ice cream van for keeping everyone cool.
To the people who donated wonderful trophies and prizes for your specially dedication classes, a lovely way to remember your dogs.
And most of all to everyone who came along with their dogs and families to support our event, we couldn't have done it with out you all.
MASSIVE THANK YOU x
Support Adoption For Pets award us a Van
We recently applied to Support Adoption for pets for a van to help us with transportation of our rescue dogs. We were shortlisted and today it was announced we were successful. We can not thank Support Adoption for Pets enough, this will make a massive difference to us and will enable us to transport dogs more easily
Here is what they said:
"Grant Application for Vauxhall Combo L1 H1 1.3 CDTi 90PS Panel vans
Our final announcement for today around our Transporting Pets Award is for the guys at German Shepherd Rescue Scotland who sent in this introduction to themselves along with their grant application.
We are thrilled to be able to help them with their wish for a new van to help them with the pets in their care and we are now working on getting it to them as soon as possible"
Follow their facebook page to see Dorothy's video appeal
https://www.new.facebook.com/SupportAdoptionForPets/
Fantastic Fundraiser
Last weekend one of our rescue dogs Diesel and his dad organised an off road trial to raise funds for us. They made an amazing 550 pounds!
A special thanks goes to East Neuk Wobblers Trials Club and their members who took part in the event.
Diesel checks the tyre pressure is correct before he lets his dad ride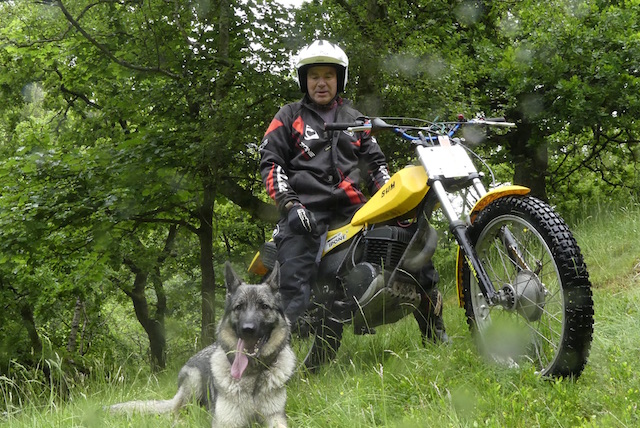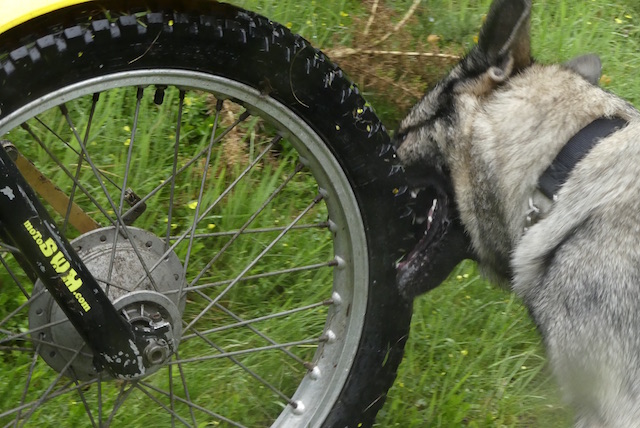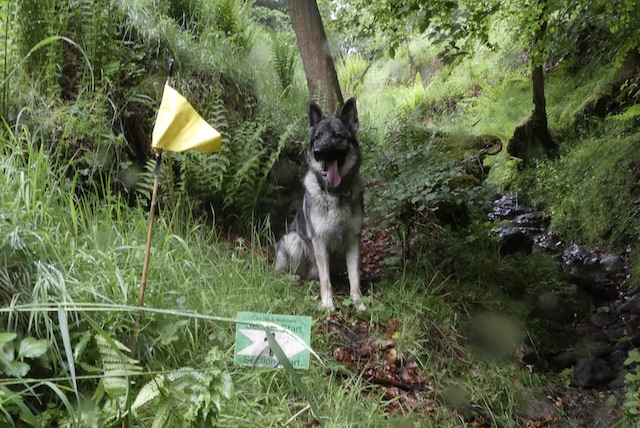 Well Done Gail
Massive THANK YOU to our volunteer Gail Williamson and all her dogs, who accompanied her on various stages of her 10 mile walk to dog training yesterday. Gail has raised a whopping 415 pounds (plus gift aid) which is a fantastic achievement.
Thanks to everyone who sponsored her and supported her and to Derek for doing the doggie exchanges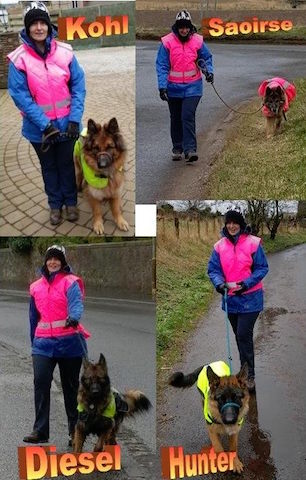 Dance School Thank You
Another big thank you for GSRS, this time to the Jean Taylor School of Dance in Aberdeen. They recently put on a production of Snow White and did a charity collection for us during the show raising 200 pounds
This extra money will go a long way to helping our kennel dogs, we have some vet bills coming our way soon.
Our Aberdeen Volunteers Laura Smeaton and Amy Walters went to a special cheque presentation today on behalf of the rescue - thank you both girls x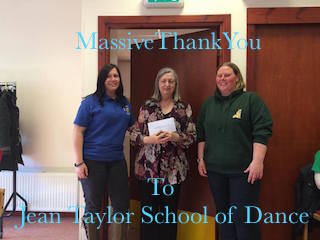 Sponsor Time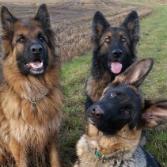 Gail Williamson one of our Volunteers and her 3 GSDs Kohl, Diesel and Hunter are doing a sponsored 10 mile walk to their dog training class (dogs are doing a bit each) on 26th March 2016.
If you can spare a few pounds to support Gail and her boys I am sure she will really appreciate it. And all the money raised is coming to us to help with our vet and kennel bills
Here is the link to Gails fundraising page http://uk.virginmoneygiving.com/fundraiser-web/fundraiser/showFundraiserProfilePage.action?userUrl=GailWilliamson
Zeus has found his forever home!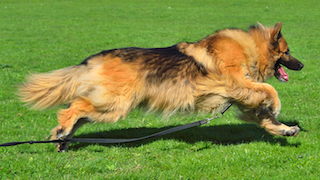 Zeus is now jumping for joy, as he has now been officially adopted by one of our volunteers. He is one of our longest residents in the kennels and we are delighted he is now in his forever home.
Zeus was a big scardie cat when he came to us, he had been isolated for everything and was afraid of the world. Eileen has done a fantastic job, with the help of Dorothy and Carolyn (who walked him every weekend) at helping this boy get over some of his fears. He will never be 100% but he is certainly happy.
Thank you to everyone who has sponsored Zeus on our sponsorship page.
Kos finally finds his retirement home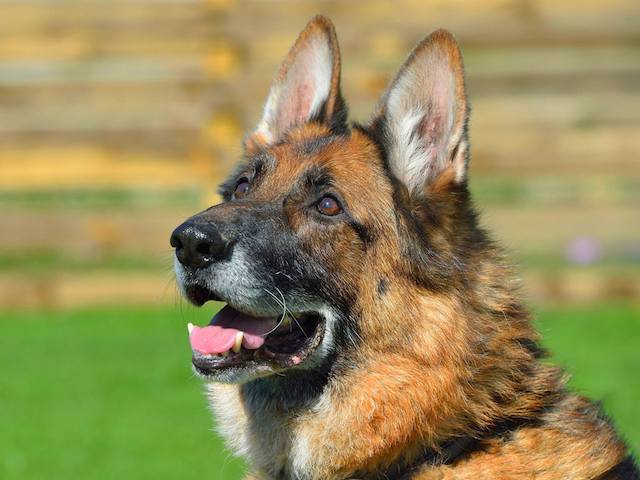 Kos our old gent has finally found his forever home with his foster carers. He went into foster this year so he didnt have to spend another winter in kennels and he got his paws under the table and is staying put. We would like to thank everyone who has sponsored Kos, he was a popular boy in our sponsorship scheme
Wishlist Thank you
We have had an amazing amount donated to our December kennel wishlist. Thank You to everyone who has donated goodies, food and bedding to our kennels. Our dogs in the kennels will be spoilt this year.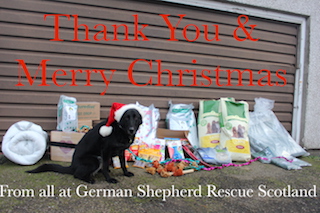 More Articles...