Tracking Rally Fundraiser 2016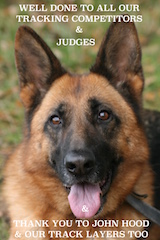 Over for another year - Another successful fundraising tracking event which was held over Saturday and Sunday this weekend. And the weather couldn't have been kinder to us.
We just want to express our thanks to John Hood for putting the event together (with a little help from his glamorous assistant - who wants to remain nameless lol)
Massive Thank You to Sandra & Shirley for giving up their days to judge for us, we certainly couldn't have done it with out you. And of course your track layers, Nick, Sandra and John. Great effort guys and girls.
Big thank you also goes out to all our entrants and their dogs. We hope you had a great time and will come back again next year. Congratulations to all the rosette winners. Please post photos of your dogs with their rosettes, we would love to see them on here.