In Memory of Roseanne McGinn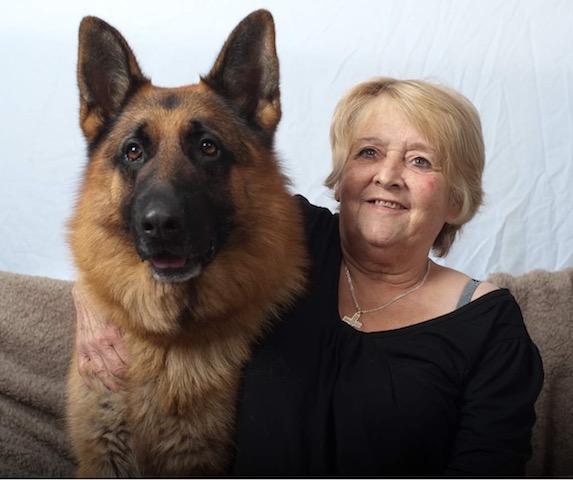 In Memory of Roseanne McGinn (pictured here with Hundark Raffi.)
On Saturday 22nd April at the Strathclyde Champ show Carolyn and Dorothy met with Mandy, Roseanne's daughter to accept the donations from Roseanne's funeral. We are delighted to let you know that including the online donations Roseanne's friends and family have collected £837 for German Shepherd Rescue Scotland in her memory. I am sure she will be delighted with this and it will certainly be put to good use.
We would also once again like to thank Roseanne's family for thinking of us as such a sad time. We are extremely grateful.
**************
Sadly this week we were contacted by the family of the Roseanne McGinn who recently passed away, they wanted to let us know that the family were arganising a collection for us at Roseanne's funeral this Friday (14th April 17).
We cannot thank the family enough for this very kind thought at such a sad time. Roseanne's daughter Mandy has provded us with a few special words about Roseanne that we would like to share with you. Mandy writes.......
Sadly on the 8th April 2017 my mum Roseanne lost her life to cancer. She was an amazing woman who had animal welfare at the forefront of her life.. from a young age she worked with animal rights, protecting those animals in need and continue to work with rescues taking on an older GSD who was in dire need of love and care, Elsa, as we called her, lived out the last of her days with My mum at home where she was kept clean, given quality food, freedom to roam around the field at her leisure but most importantly knowing she was loved. Her most recent rescue was a lovely male GSD who's owner no longer wanted him, she took him, he was terrified of everything, she worked with him giving reassurance and love which enabled him eventually to move into his permanent loving home..but she didn't stop just with German Shepherds, she also rescued 2 horses a few years back, Floyd and Dixie, Dixie unfortunately had been badly abused and despite mums best efforts to keep him alive he lost his life as his legs were buckled, mum did a sponsored walk at a time when she wasn't in the best of health herself and raised several hundreds of pounds to enable Dixie to get an operation on his legs. This gave him a little longer life than he would have otherwise had.
So you see, it was only fitting that she would want her friends and family to donate to the breed she has devoted her life too and she would want to make sure that despite not being in this world anymore, she can still play her part in saving their lives ?? forever in our hearts .. Mandy McAteer (Roseanne's daughter)