Latest News
First of all we would like to say a big thank you to all of our volunteers for their continued support and take this opportunity to welcome all of our new volunteers.
Well Done Shelby!!
A huge well done to Shelby for completing the Men's Health Survival of the Fittest 10K challenge in aid of German Shepherd Rescue Scotland. She raised a fabulous £517.50.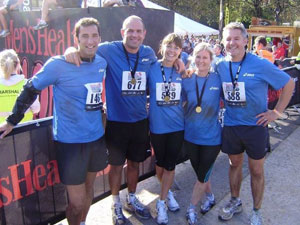 Thank You Audrey
A great big thank you to Audrey who took part in a run at Crathes Castle in Banchory and raised a fantastic £637.60!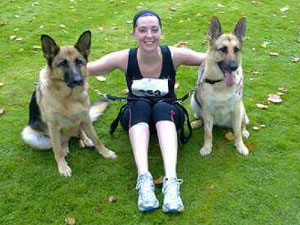 Volunteers raise £340 at Peebles Agricultral Show
A huge thanks to Dorothy, Maggie, Carolyn and Julie for promoting the rescue at the Peebles Agricultural Show. The stand looks wonderful and they raised £340 for the rescue.
Rescue at Banchory Show
Well done to the ladies and and their four legged friends for a wonderful stand at the Banchory show, they all did a great job raising the profile of the rescue and made £375.
Foster Kennels and Foster Carers Urgently Needed
As some of you know already we now have a small number of foster kennels available. These are kennels that people have built in their gardens so that they can provide short term and emergency accomodation for some of our more needy dogs. These have proved to be very successful because they provide a more normal environment for the dogs. They can get play time in the garden and time inside the volunteer's home. In fact very often the foster dogs end up living in the house with the foster families and their other pets. If you think you have space to erect a kennel and time to spend with a foster dog please get in touch, we would love to hear from you.
We are also in desparate need of foster carers. We keep losing our foster carers because they foster a dog then inevitably end up keeping it! Obviously we are delighted when this happens but we would love to find some more foster homes where people maybe don't already have a dog, or have German Shepherd experience and can help with some of our dogs that have issues. You can see from our site that many of the dogs we get asked to re-home have issues that can be worked on if people are prepared to put in some time and effort.
Donate Monthly
If you would like to give the Rescue a monthly donation please click here and send us a request for a form. We will send you a Standing Order form. All you need to do is complete the form and hand it in to your bank. The donation amount is entirely up to you. Every donation helps no mater how large or small, and every donation is greatly appreciated.