In June/July 2012 we saw Kaiser on the website looking for a home. After speaking to the rescue and receiving all his information, we arranged to take the journey down to Edinburgh to meet Kaiser with two of our other dogs. We knew he had some issues with guarding/protecting the house and his family. Due to this the previous owners were no longer able to keep him.
At the meeting we introduced ourselves, he had a bit of a bark and lunge at my partner but once he realised he was not going to be the dominant one, he turned into a big softie. We took him for a walk and then introduced Tess and Storm, this went really well, all three dogs accepted one another with no issues. So it was agreed between the rescue volunteer and us that he would come home with us. He was used to travelling and we didn't hear anything of him until we got home. This was the next challenge for Kaiser, meeting our 3 golden oldies Dixie, Elvis and Whisper. This went without any issues but because he was black and it was dark when we got home, he was like a playful bullet running around the field.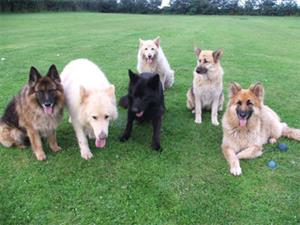 Kaiser with his family. Dixie, Elvis, Kaiser, Whisper, Tess & Storm.
The challenges with Kaiser - uncertainty and aggression:
1. He guarded the outside kennel and every time you walked near, went to open the door or put him in, he would revert back to his guarding. He never bit us but he would bark and try to scare you so you would back off.
2. If men appeared at our house and stayed the other side of the gates, he would bark and lunge at them and was unpredictable on his response if they came through the gates.
In August 2012 Kaiser was enrolled into two different dog training groups. One was indoor facilities and a GSD only club. The second was outdoor facilities with mixed breeds. He had his basic training, sit, down, stay, etc but we wanted to refine his training and let him know he was not boss of us! He responded well to training and we realised he was a big softie out and about away from the house. I took him to the woods after his training and he never moved from my side.
Over this last year he has come on a lot with his training in classes and at home. He doesn't guard his kennel any more and when people come to the house we can down get him to sit stay, he will now let people enter through the gate and then he is allowed to greet them. This method has worked well with Kaiser as he can see them from a distance and realise they will not harm him. At training he has passed his Novice and Second Test in the Good Citizen Dog Scheme through the Kennel Club and is currently working towards his Third Test. Also we have started to do agility with him and he loves the A frame and tunnels.
Yes it has been a hard year with Kaiser being unpredictable but has been worth seeing him grow and change with guidance and confidence. He is a special boy and as the baby of the group all the others let him have his fun but then put him back in line, got to the love the pack workings. Sadly the ones which were good at keeping him in line are no longer with us, but they have passed on some manners to Kaiser in the last year.