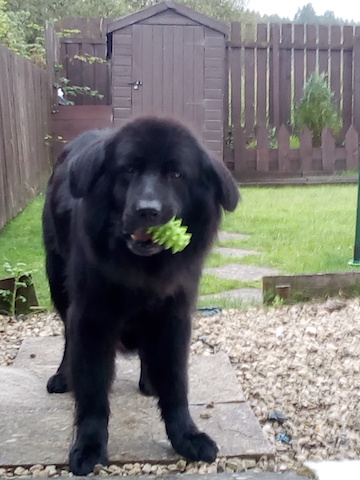 On 24th August this year Dorothy from G.S.R.Scotland phoned me and asked if I would consider fostering this dog. I jumped at the chance as I was hoping to get another Shepherd as my previous dog who I got through this rescue centre had been P.T.S. few months ago.
I travelled through to Edinburgh to see him.
He looked so bedraggled and thin , Carolyn explained he had oestoarthritis in his left hip, it was quite evident as he dragged that limb and the black protective bit of his paw was worn away showing the white skin underneath. Played ball with him for a while and before I left told Carolyn that I wanted to adopt Ted not foster. I was so fortunate to get Ted as Carolyn said ....if she hadn't promised me Ted she would have kept him .
Since I have had Ted he is coming on so well, stiffness has totally gone out his left hip and his pad has healed completely.
Ted has had a few pamper sessions and his coat is now lovely. We go for long walks , long lead on as he likes to chase Bambi out my back door.
He is attending obedience classes and is learning so fast. Also been on a few ferry trips and Ted loves to stand up at the front and get the wind blowing through his coat.
I have to remind myself of his age , he is now so agile and full of fun and acts like a 3 year old..
Looking forward to the summer as it's difficult to keep him out the water, he loves to swim and hates coming out the water.
I can't thank Carolyn Dorothy and Eileen enough for allowing me to adopt him, he is my soul mate.. Sorry Carolyn , know you wanted Ted, that's why I decided to adopt right away