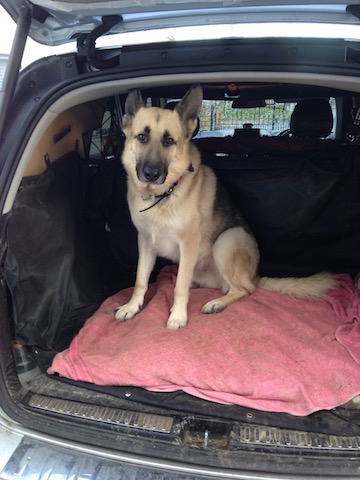 Hi, my name is Ben, I am a 6 ½ year old German Shepherd Male Dog. I was very sad when my first master died. I was passed on to his daughter, but I think she found me a bit of a handful, as she had small children and not much time to take me for long walks. She asked the German Shepherd Rescue Scotland to find me a new home.
After a while a person took me to meet a prospective new owner. They had recently lost their own GSD (Marlie) due to Spleen Cancer and were very sad without a dog. We got on well, but they had other dogs to see and I was taken back to the daughters house. About a week later they decided that I was the best dog and they agreed to give me a forever home. I said goodbye to my late masters daughter & I was taken back there with my own bed, food bowl & my leftover food.
They are both retired so are at home with me all the time and, if they go out, they take me with them. They have had big dogs all their life and I knew that they love animals. Within a week I was quite at home with them and they gave me lots of affection, which I was more than happy to return. They have a big house and a big garden and allowed me the freedom of the whole place. I have a bed downstairs for my afternoon snooze and another bed upstairs in their bedroom to sleep in at night. At night, when the lights go out, I always go round to check that they are both safely tucked up in bed before I go to my own bed.
The house is at the edge of a small village in the country and there are lots of fields and woodland walks nearby. The field next door has lots of big black & brown hairy animals and small white woolly animals in it. I don't like the big animals, they have a funny smell and make a funny noise. The small woolly animals run away from the fence when we pass. I would love to chase them but I have been told that I must never do that - - - I will have to learn to resist that temptation.
I have discovered that there is a small dog in the house next door. We have sniffed each other through the communal fence. We have not met outside yet but she seems quite friendly. I may have a pal there.
They have a big estate car with lots of room in the back for another bed for me. I love going in the car as it takes me to lots of interesting places for my walk. I like to sit looking out the back window at all the passing scenery as we travel. I have been to riverside walks, walks along lochs, walks on the beach, but I have never seen so much water before and I am a bit wary of going in the water. I don't even like the rain or getting my paws wet in puddles. I see other dogs swimming in the water and they seem to like it so I will have to pluck up enough courage to try it sometime.
They also have a big caravan. We have never been away in it yet but I have been inside it and see that I also have my own bed in there. I am looking forward to visiting new places when we go away on holiday with it in the summer.
They take me with them in the car when they go to buy their food. We always stop for my walk on the way there. My favourite is the large grass park where I can run free. My mistress stays at one end & my master takes me far away to the other end. I then run flat out between them to collect treats from each of them. After about a dozen runs between them I am exhausted and quite happy to trot, to heel, back to the car, even without a lead. At the food store I sit in the car waiting for their return. It is a bit boring but I look out the back window at all the activity in the car park or just lie down & sleep. I bark to guard the car if anyone comes too close.
Some times they take me to the big building where they buy my food. I am allowed to go in with them to brush up on my socialising skills and I like to say hello to the staff and all the other customers. There are lots of funny little animals in cages that do not smell like dogs & I like to look at them. I am not too keen when I meet other customer's dogs in there and I will have to learn to accept them. On the way out they always buy me a new toy. I have not had many toys in the past and am only now learning to play with them.
They have also introduced me to licking yogurt and trifle pots. I have never done that before and only now realise what I have been missing. Now, when I see them opening the big cupboard in the kitchen, with the light that comes on inside when it is opened, I know that's where the yogurt pots are kept & I sit beside them at the table waiting for my chance to lick the empty pots - - they always leave a little bit in them for me.
At dinner, if they are eating anything that I might like, they leave a little on their plate and give it to me for my supper mixed in with some of my biscuits - - - I really look forward to that & can't wait for them to finish eating. I run to the kitchen with them when they carry the plates through and wait patiently for them to put my bowl down. If a person gives me tit bit in their hand I am gentle very careful not to nip their fingers and will even lick their fingers clean of cream from any cakes they have been eating. I have been well brought up by original master, I do not jump on furniture and I do not steal food from the table. I even wait to be told that I can eat my dinner after my bowl has been put down.
At night they sit in the lounge watching pictures on a thing hanging on the wall. Apparently Marlie (their last dog) used to get very excited and would bark at pictures of other dogs - - especially when the Dog Whisperer was on, and would sing along to songs on certain instruments such as the bag pipes. I am so laid back that I don't bother with any of that and just lie on the carpet at my master's feet and stare intently at him. I have bonded completely with my master and follow him everywhere he goes in the house. I cry when he leaves the house without me and just sit behind the front door till he comes back, even although my mistress, who I also love, is still with me. I can tell as soon as his car comes back in our drive and give him a big welcome when he comes in.
Occasionally they have to leave me at home alone. They were worried that I may have separation anxiety and set up one of their home security cameras to look over me. I cried a little bit when they left at first but I knew they would be back soon so I was OK. I just settled down behind the front door and waited for them to return. I do not damage the house or scratch the door.
A while ago we were invited to the local animal hospital for a free dental check-up for me. A nice man looked at my teeth and said that they were all in excellent condition and no remedial treatment was required. He did say, however, that I would have to come back soon for "The Snip" - - - I don't know what that is yet - - - hope it is not too painful!
Just want to end by thanking all the nice people at German Shepherd Rescue Scotland for finding me such a good forever home that I love and I know that the owners love me.
Woof Woof
Ben